Frequently Asked Questions
Are the prices on the website up to date ?
The price list is updated on our website. Published prices are vehicle price and one way transportation cost. If you are unable to reach the price information for your desired destination on our website, please fill in the online contact form or by telephone "+90 242 255 50 00 & +90543 543 07 68" you can learn pricing. 18% VAT is included in our prices.
How can I make a reservation ?
For booking, you must complete the booking form on our website and send it to us. If you have less than 24 hours left in your booking time by phone or SMS ( +90 242 255 50 00 & +90543 543 07 68 ) you can make your reservation.
How can I find you at the airport ?

Our attendant waiting for you is at the exit door after the completion of the luggage and customs work, in his hand dyktransfer.com the sign with the logo will wait for you with the A4-sized sign with your name or the word you specify.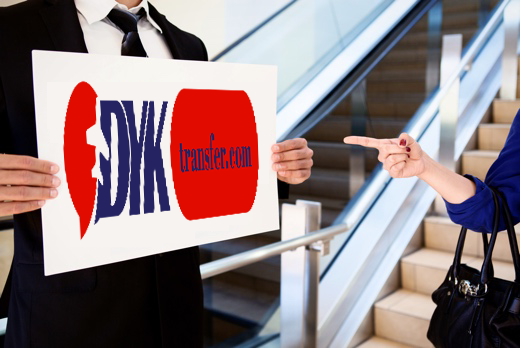 What do I do when I can't find the attendant ?
Please call us at our mobile phone numbers on our Contact page or before you get into any vehicle.
Will I pay any other fee than the stated fee ?
No, you will not pay a fee other than the stated transfer service fee.
What should I do if there's a delay on our arrival flight ?
Airports you will not be charged extra for any delay or delay during your arrival journey. Delay-delay if there is always us by phone or by sending sms+90 242 255 50 00 & +90543 543 07 68 you need to report it.
Do you have child seats in your vehicles ?
In order for families with children to travel safely with their children, we have free child seats in our vehicles (1 per vehicle). Please inform us if you need a child seat at the time of booking.
Are your cars air-conditioned ?
Yeah, all our cars are air-conditioned.
Would you mind if I spent more than half an hour during baggage and customs procedures?
30 minute delay is not a problem during baggage and customs procedures, you have a 60 minute delay time, if you encounter a problem with lost luggage at the airport, you should notify us when extra baggage is available.
When can I make a reservation ?
Our reservation system is available online 24 hours a day and 7 days a week.
Do you pay bills ?
Yep. Please provide us with your corporate or individual billing information when filling out the booking form. Your e-invoice will be mailed to you within one or two business days of using our transfer service.
How can I reach you at the airport ?
Contact numbers in our cities will be notified during confirmation.
Which terminal do I drop off at on the way back ?
According to the characteristics of your flight and your aircraft company, our professional Call Center friends will immediately reach which terminal your flight departs from and our professional car drivers will leave it at the terminal where your flight departs.

How much should I tip ?
It is your initiative to place a bet on your satisfaction with the service you receive.